FAQs
How does this all work?
Give us a call or send us an e-mail with your event date and what you are interested in. Try to use the product descriptions as much as possible so that we're all talking about the same thing. We can send you a photo along with swatches or in some areas we physically spend one day in that area meeting with clients. If you're available on that date and we'll be in your area, you can set an appointment to see the actual product. If you decide you like it and want to use our chair covers, fax or e-mail us your order including the date and the number you will need of each item. Orders are filled on a first come, first serve basis and if it's a product that we carry but don't have it in stock and will need to order it, the more notice you give us, the better your chances are of having your order filled. If you have a June wedding and you wait until the end of May to place your order, chances are that the date will be filled and your order will be out of stock. Once we confirm your order, we will place it on our calendar and about a week and a half before your event we will ship everything to you, unless you are a local client and in that cse we will deliver your order to you about 2-3 days before your event. When you're finished, just throw everything back in the boxes, seal them up, place the return labels on each package, and call UPD or us, depending on wich carrier we have used, to come pick them up. They will know to bill our account by the shipping label. It's that easy.
Do you rent to businesses?
Of course! Many of our national clients are venues that we are helping to increase their bottom line with each event that they host. If you own a venue and would like to use our chair covers, give us a call and we'll get you an account all set up.
Do you carry other types of chair covers?
We carry many different styles of chair covers but they are all spandex based. We do not fool around with those "baggy-saggy" things anymore.
Do you have samples available?
For all items except the butterfly wing chairs. They have a 100 order minimum quantity and we can't order 100 of each color just for samples.
How can you dress up your chair cover?
Well, you can put a chair band around it with a rhinestone diamond chair buckle in your choice of circle, diamond, or heart, or if you prefer the traditional sashes we do carry those too for a small upcharge and there are various ties in the Sample Page, plus we can provide you with a more detailed instruction. Or you could put a glitzy or sequined chair band around the chair as those really dazzle up any event.
The chair really does make the room. Look at the following example: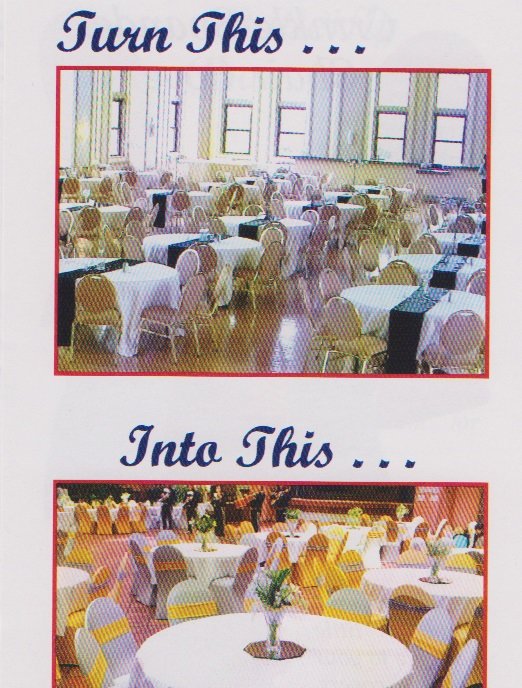 What do I get for $1.50?
Your choice of any standard chair cover, along with your choice of any standard chair band, and your choice of any rhinestone buckle. We also carry hundreds of premium products in different colors and styles but these are more costly and therefore, they rent at a higher price. But unlike some companies who just leave that price gotrbrt, once an item has covered it's cost - it becomes a standard item available at the $1.50 price.
How much is shipping?
Ugh! That dirty little word! Like a lot of companies, we have used UPS exclusively in the past but this last year their prices have just become ridiculous. A good estimate is about $59.99 per 100 chair covers for round trip - and that's not actually what we pay for the shipping so we're actually giving you a discount. And if their rates weren't bad enough, the way they handle our boxes is outrageous. So we are in the process of looking into different carriers. If you know someone who might be interested in being a carrier, please let us know. The good news is that if you live in Nebraska, Iowa, the Dakotas, Minnesota, or Wisconsin, we have found an excellent alternative to UPS but they only deliver to those states. Maybe if I call them enough, they'll expand nationwide:) We are also working on establishing actual routes that would include enough stops to make in-company delivery feasible. We are willing to look at any reasonable alternative that would save both us and our clients money and aggravation so if you have an idea, please speak up!
Do you offer set-up and is this included in the price?
We do offer set pup in many areas but it is not included in the $1.50 price.
How do your payments work?
All orders have to be paid for before they will be shipped - no exceptions - businesses or personal. We accept all major credit cards, checks and money orders. We don't advise sending cash through the mail.
Do you carry folding chair covers?
Oh my yes! In hundreds of colors. But please be aware that folding chair covers do not come with chair bands or rhinestone buckles. The way the chair is built ruins the chair band and they tend to start popping 'off' during you event, and while it may actually be comical, it ruins the bands so that they don't fit the banquet chair adequately afterwards.
Are the buckles included with the Glitzy and Sequinned bands?
No. The buckles are pins and they begin to destroy and tear off the sequins. But the band itself is so elegant, it doesn't need a buckle
Can I Get a Swatch or Sample Product?
Of course! You may order all of the swatches you like at no charge. If you would like an actual product, we would be happy to send you one, however, we will ask you to put a $5 deposit down on a major credit card which we will credit back as soon as we received the product(s) back

How soon should I give you my order?
We can't emphasize this enough - THE SOONER THE BETTER - especially during peak season. Although we offer hundreds of products, we do not have them all in stock and we order them as they are ordered. Supplies often run out during the busy season and if you wait too long your item may be out of stock or we may have too many orders ahead of yours t squeee yours in. To emphasize this, we are implementing a $50 late fee for orders placed within 3 weeks of the event.